About 3 Princes Street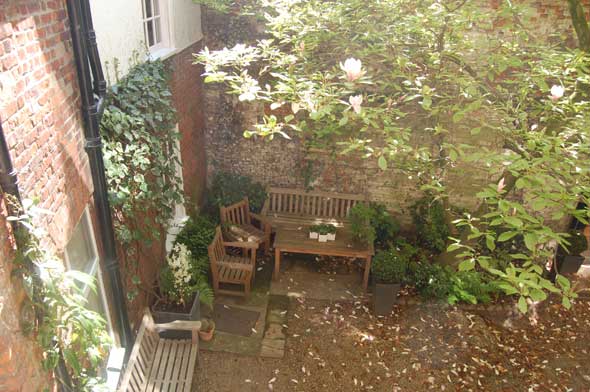 One of Norwich city centre's best kept secrets — our courtyard
The house is built around the walled courtyard garden providing a sunlit, secluded outside space in the heart of the city centre. Perfect with the papers and coffee before the start of a busy day, or hurry back home in the afternoon for tea and cakes. Why not bring your own bottle of wine or champagne and enjoy the garden before eating out at one of the fine local restaurants?
We are always delighted when guests choose to sit here or up on the balcony that overlooks the courtyard, especially lovely at noon on a winter's day.
Visit 3 Princes in the early spring to see the splendid flowering Magnolia. Visible from outside peeping over the top of the high city wall but definitely at its best, viewed at twilight, when the pure white of the petals shine softly from the vantage point of the Magnolia Tree room.
Historic Norwich
3 Princes Street is in the very heart of the city. It is midway between the Castle and the Cathedral and overlooks the medieval St Andrew's and Blackfriars' Halls.
Historic Elm Hill is only a few steps away, and city centre shops, the market place, restaurants, bars, and inexpensive overnight car parking are close by.
One of the joys of living here is that the house has a peace and quietness all of its own. And yet, open the front door and you are immediately a part of the vibrant city.